Vancouver
24 hours in Vancouver, Canada just wasn't enough...especially with how our weekend was spent.
A few weeks ago, I was wasting time on the internet and figured out LANY (one of my favorite bands) was opening for Oh Wonder (another great band) in Vancouver over Memorial Day weekend. I madly made plans to try and go see the concert, despite being sold out. Over the next few weeks I religiously watched the Facebook event page for updates about people selling their tickets at face value. After a series of random and lucky events, I managed to get on the guest list somehow.
The plan was to leave on Saturday morning and spend one night in Vancity. But things didn't go quite to plan (but do they ever??) and my travel buddy wasn't able to anymore. Well when life gives you lemons, you make some lemonade (in Beyoncé fashion).
It was 12:30 pm on Saturday; 7.5 hours until the doors opened for the concert and 9 hours until the LANY started their set. I was furiously determined to go and called up my friend Amy who reluctantly (with good reason) accepted my spontaneous trip invitation. At this point, the only thing I had was concert tickets and a car to get up to Vancouver. I had no place to stay, and honestly no plan.
Amy and I frantically looked for any reasonably priced motel, airbnb, or hotel with a room on such short notice. As luck would have it, Amy managed to find a deal through Expedia and booked us a hotel at the lovely 5-star hotel Rosewood Hotel Georgia, conveniently two blocks away from the venue.
With a place to stay, I went over to pick up Amy and her roommate Karin who also spontaneously decided to go and we hit the road heading to the border. Nothing was apparently supposed to go smoothly, it was all an adventure, because it took us about 4.5 hours to get to the Rosewood. The border took a good chunk of time, most likely due to the holiday weekend. Still, we made it, much later than I wanted and anticipated, but we still had some time before the concert.
I pulled into the valet area of the Rosewood full of Land Rovers, Porsches, Mercedes, and BMWs in my Subaru outback...we kept joking that the valet drivers probably thought we'd pulled into the wrong place.
Like I said before, this trip was an adventure. We stepped into the posh lobby full of well-dressed individuals about to go out on their Saturday night, and attempted to check in. Unfortunately, there was an error with our reservation and we didn't have a room. Thankfully Amy had the confirmation code for the purchase and we waited for 30 minutes while the hotel manager and concierge tried to work out the discrepancy. Go figure. We had told them we were on a bit of a time crunch because of the concert, so they suggested we go and grab dinner and check back in with them in a bit.
A little discouraged and concerned about where we were going to stay, the three of us walked to a nearby pizza place and had some cheap pizza which boosted our spirits. It was surprisingly flavorful and hit the spot. We walked over to the venue, pizza in hand, to figure out if we needed to get bracelets or our tickets before the show started. At the doors, they told us there was no reentry so we decided to head back to the hotel and check for any updates. At this point it started to drizzle - how fitting.
At the hotel, there was still no change in our status; we were in limbo. They suggested we get a drink at the bar to pass the time, but we just wanted to know if we had a room. Heck, they could have given us a closet and I would have been happy knowing we could sleep somewhere other than the car. Luckily a few minutes passed by and they confirmed that we had a room in their hotel! Relief washed over us and curiosity too because the concierge said "I think you'll really like the room. You are on the twelfth floor, just use your key card in the elevator".
In the elevator, we noticed there were only twelve floors....what possibly did they give us?
Nothing could prepare us three for what was on the other side of the door. NOTHING. We opened the door, walked in, and immediately began squealing, screaming and collapsing to the floor.
They had given us their largest penthouse suite for the night...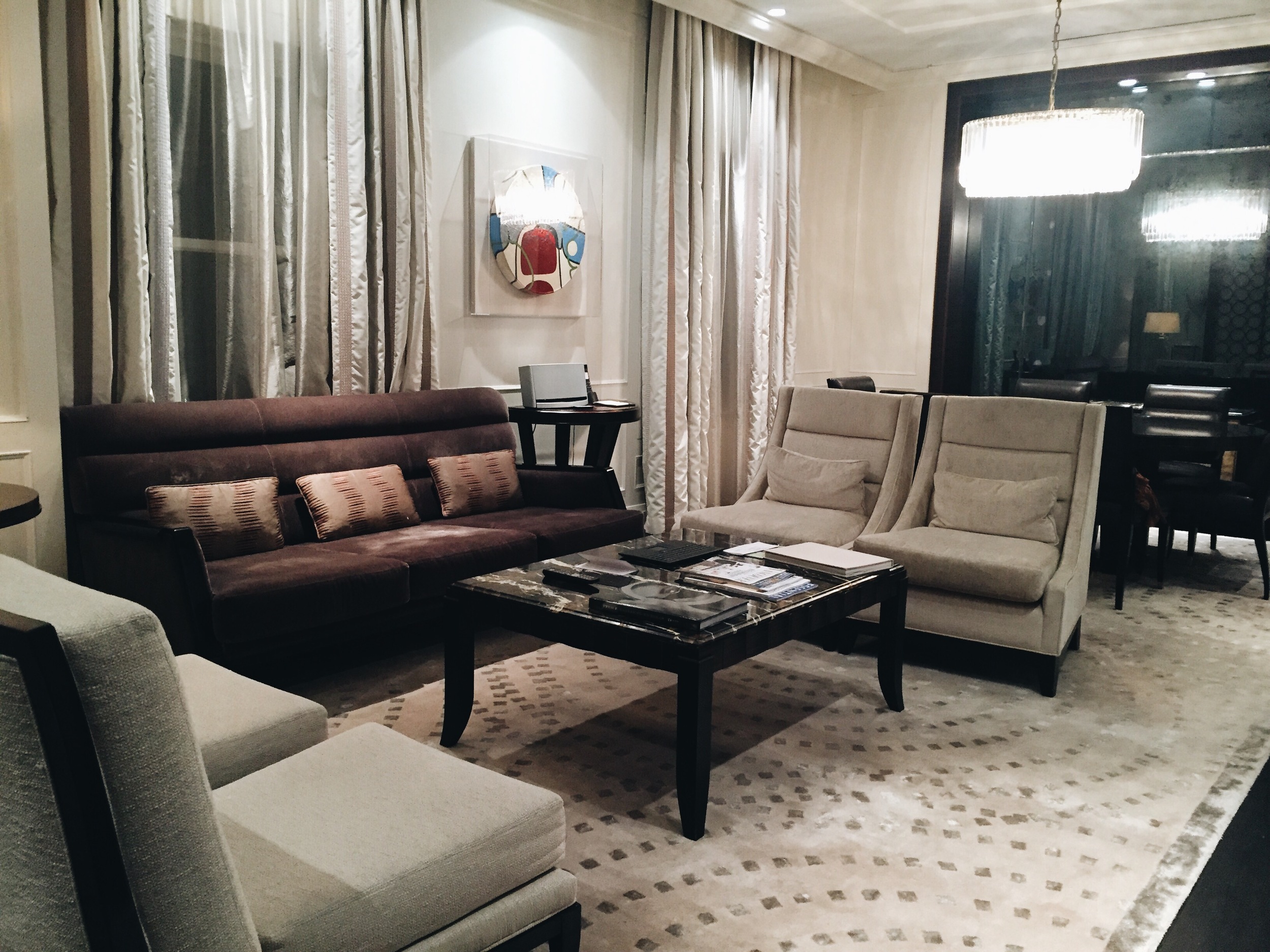 We entered the room with stairs leading up on our right. Stepping in some more, there was a gorgeous living room equipped with wispy curtains, a velvet couch and television above the fireplace reading "Welcome Ms. Amy Wang". Further back was a dining table, bathroom, and a small kitchen. To the left was a large bedroom with two plush beds and a modern bathroom with a rainforest shower. We collected ourselves before the bellhop brought up our bags and went right back to disbelief.
After exploring the main area of our hotel room, we ran up the stairs to find our own rooftop deck equipped with a coffee table-umbrella duo surrounded by four chairs, outdoor dining table with six chairs, two lounge chairs and a hot tub.
Oh, I forgot to mention the killer view of downtown Vancouver from our suite.
WHAT IN THE WORLD? WHERE WERE WE STAYING? WAS THIS ACTUALLY REAL? HOW DID WE GET THIS LUCKY? We'll never know, but I'd like to give the Rosewood a MASSIVE thank you for making our night (and probably lives).
We proceeded to get ready for the concert and walked over to the Commodore Ballroom for the show. I went up to Will Call to grab our tickets and they said I wasn't on the guest list. Oh no! After all we had been through, we weren't able to the concert, our main reason for driving up. Karin thankfully had data on her phone and I quickly contacted the management team to see if we could figure out a solution. They replied immediately and were so kind and cordial. We were let in the doors and ran right inside because LANY had begun to play.
The concert was amazing, I highly recommend seeing them if you have the opportunity. Both bands are better live! At one point I thought I was going to cry because I've wanted to see them live and never thought I'd be able to, especially after everything that transpired. I leaned over to Karin in the middle of the concert and said "I've only known you for 7 hours...". Hahaha some of the craziest 7 hours!
After the awesome show, we wandered around Granville Street and had some poutine for a snack. Amy was still a little hungry and wanted to get a hot dog which she also got for free.
I like to summarize that day as follows: we got a free penthouse, a free concert, and a free hot dog. Oh Canada, you're too kind to us.
We swung by one more bar called Prohibition to finish off our night and then went back up to our room and dipped our feet in the hot tub while admiring the Vancouver skyline at night.
We woke up Sunday morning still in disbelief. Well, our luck continued. We opened the curtains to find that Vancouver was treating us to a perfectly sunny day. After spending some time taking pictures, we wandered around looking for somewhere to each brunch. Unfortunately, our timing wasn't working out so well because of brunch waits and our check out time, but we problem solved.
We grabbed a little snack at Tim Hortons, I opted for the Nutella filled doughnut. Excellent! Then, made a reservation at Tuc for brunch. While we waited for our reservation time, we ran back to the hotel, packed up, said goodbye to our beautiful room, celebrated our luck and checked out.
Tuc was recommend to us by a local who knew what he was talking about. The craft kitchen has an unreal chicken and waffles, probably the best I've ever had. The massive dish came with dijon, tomato sauce, and syrup which all paired quite well together, especially with the crispy chicken and fluffy waffles. We also split a croque madame and crispy bacon & egg.
To walk off our food babies, we strolled around Gastown, peeking inside cute little stores and tourist attractions like the old steam-clock.
Of course, we had to get dessert and opted for Soft Peaks, a soft serve ice cream shop. Mine even came with a fresh piece of honeycomb. We finished off our day with some more shopping and hopped in the car for Seattle, recounting and laughing at the ridiculously awesome weekend.
And that's how we did 24 hours in Vancouver. Defintely not how we anticipated it, but that's all apart of adventure. Canada now has very high expectations; it was so good to us. Oddly I learned so many things from this trip like everything will work out, it pays off to be nice when a situation is bleak, and just general problem solving skills. A huge, HUGE thank you to Oh Wonder for making my concert dreams come true and the Rosewood for giving three college undergrads a night they'll never forget.
It was so much fun to get to know Karin and finally take a trip with Amy. I'm very thankful they were able to go with me; it was such a memorable weekend. I can't wait for more trips with them in the future!