Palawan // PH 3
After leaving Tagaytay, we arrived in Manila in the afternoon.
Since it was too early to check into our hotel, we passed the time by wandering the Manila American Cemetery and Memorial.
They've done a beautiful job honoring those who fought and lost their lives.
We checked into our hotel and had a little bit of down time before we were off to our next destination for the night, a Christmas Eve celebration - Filipino style. We had a about 70 people gathered at a house and instead of everyone meeting up at church, we had a priest come to us and give mass! Then commenced the six hour event consisting of food, food and more food, plus some family bonding time (thanks to karaoke). At midnight we had a "snack" (basically another meal haha) with delicious homemade food and set off fireworks!
Christmas Day, which didn't feel much like my usual Christmas since it was scorching outside, we paid our respects to my great Lolo, great Lola, Lolo Gil, and Lola Letty whom we all miss very much.
Afterwards, we rendezvoused back at the house for another large lunch. By this point, some us of were getting tired of eating (if that's even a thing). Instead of sitting around after lunch, we decided to walk around one of the local malls. Dinner followed and we scurried back to our hotel to pack for Palawan the next day!
Palawan was the grand Velasco excursion. About sixty family members were able to attend this leg of the trip. Everyone met up early at the airport the next day and checked in luggage which oddly went smooth considering the size of our group. Our Cebu Pacific Airlines flight was only an hour and we managed to get the emergency exit row aka extra foot room.
Everyone's luggage made it, an incredible feat. Because there were so many of us, we took up a whole charter bus. Basically, we were one giant tour group.
The journey began with an awesome lunch at Ka Lui. We had to take off our shoes to preserve the pristine bamboo floors. We ate a slew of the local flavors, mainly fresh seafood and fruit.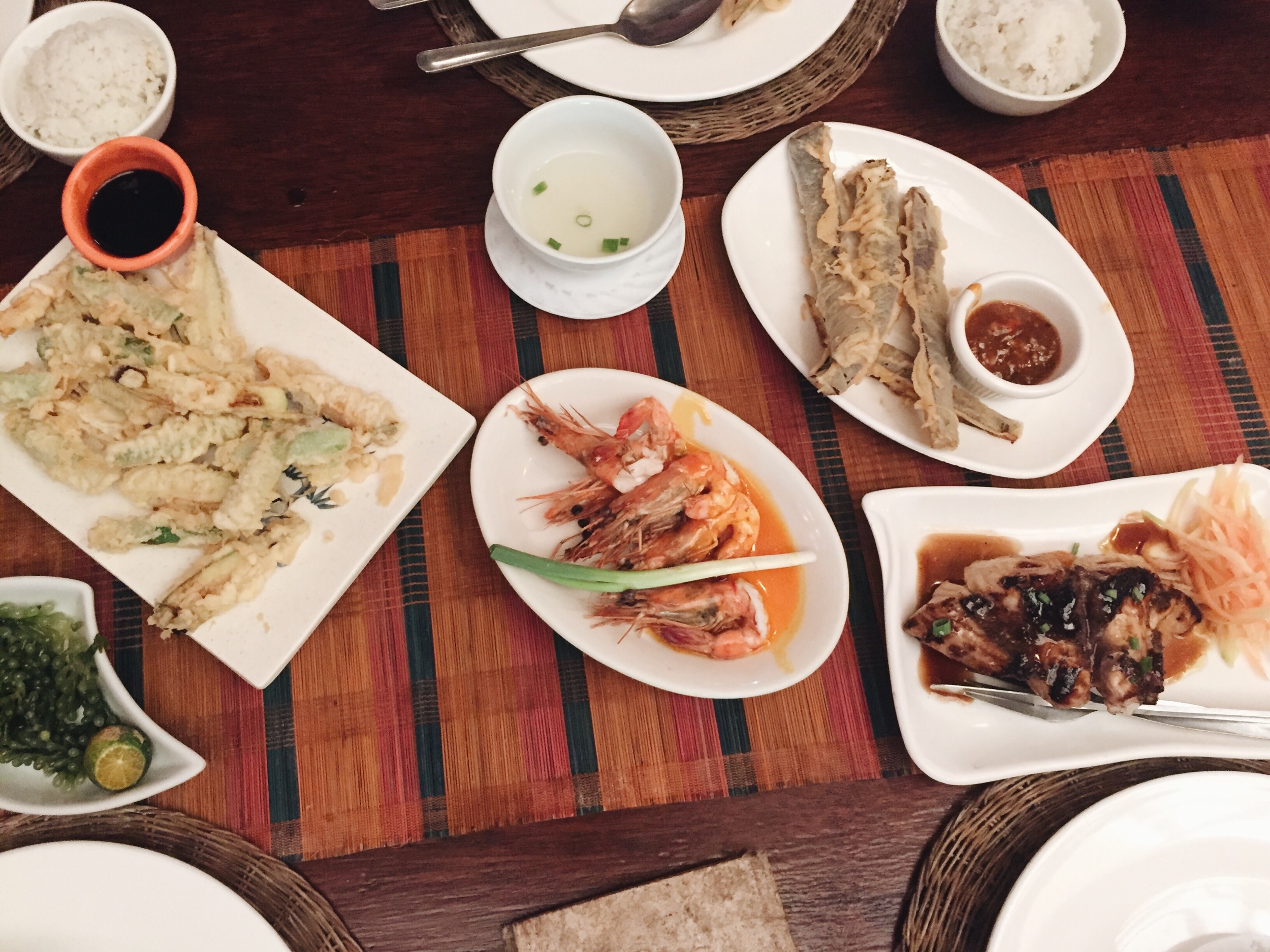 The afternoon quickly turned into the evening and we eventually made it to the Blue Sky Resort where we would be staying for the next few days. It was definitely the most tropical place we had experienced thus far with all of the bugs flying around as we waited for dinner. A few of the larger beetles latched on to people at times (ewww).
Day 1:
Our first full day started with an early morning driving to the other side of the island. It took us about three hours to get there, but we made a pitstop to stretch our legs.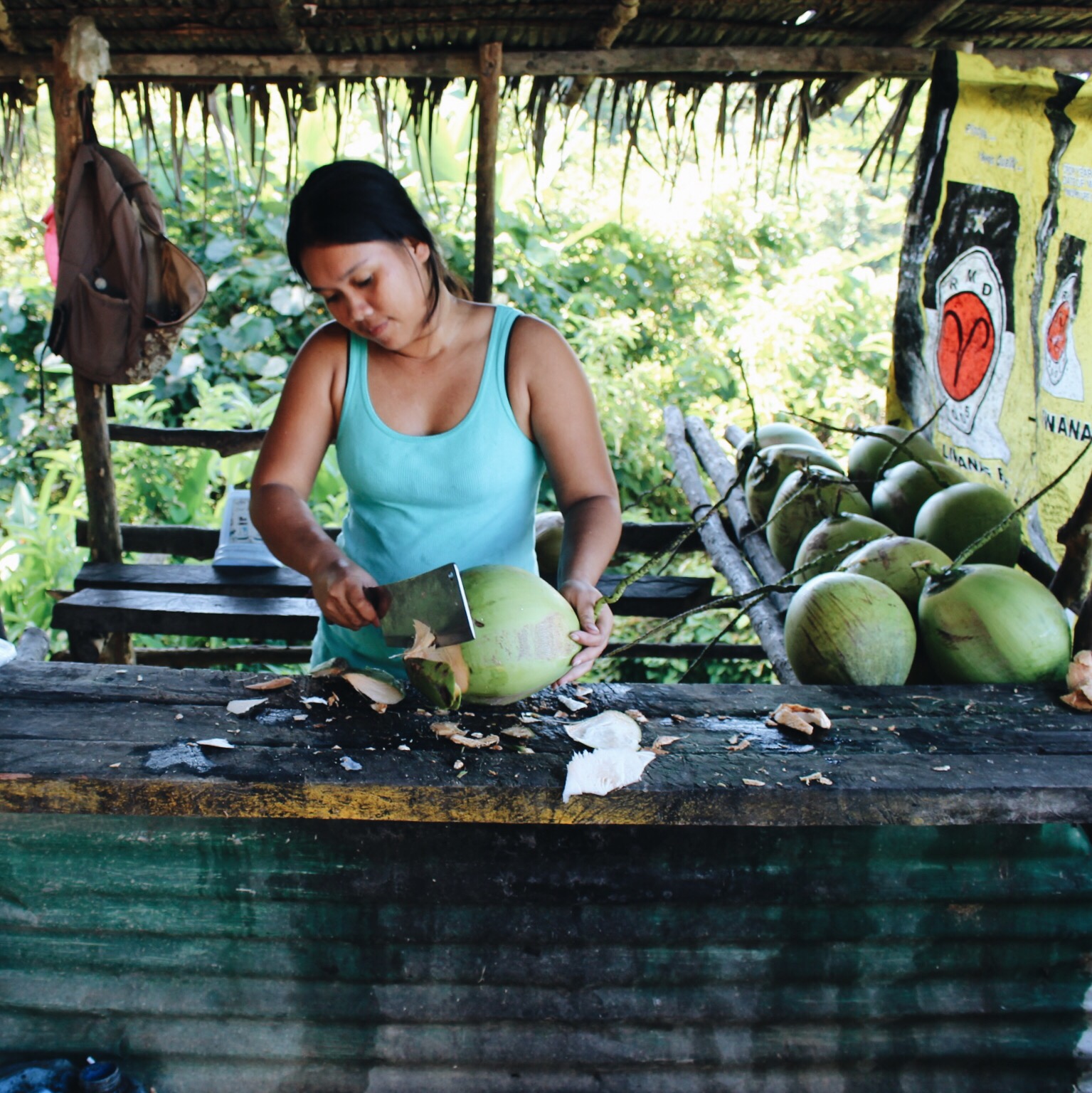 No idea what Caroline is doing.
The cutest little boy walking around the shop, must have been the owners son.
Lolo taking in the views.
Once we arrived, we had an excellent lunch at the Sheridan Beach Resort and spent some time on the lovely beach.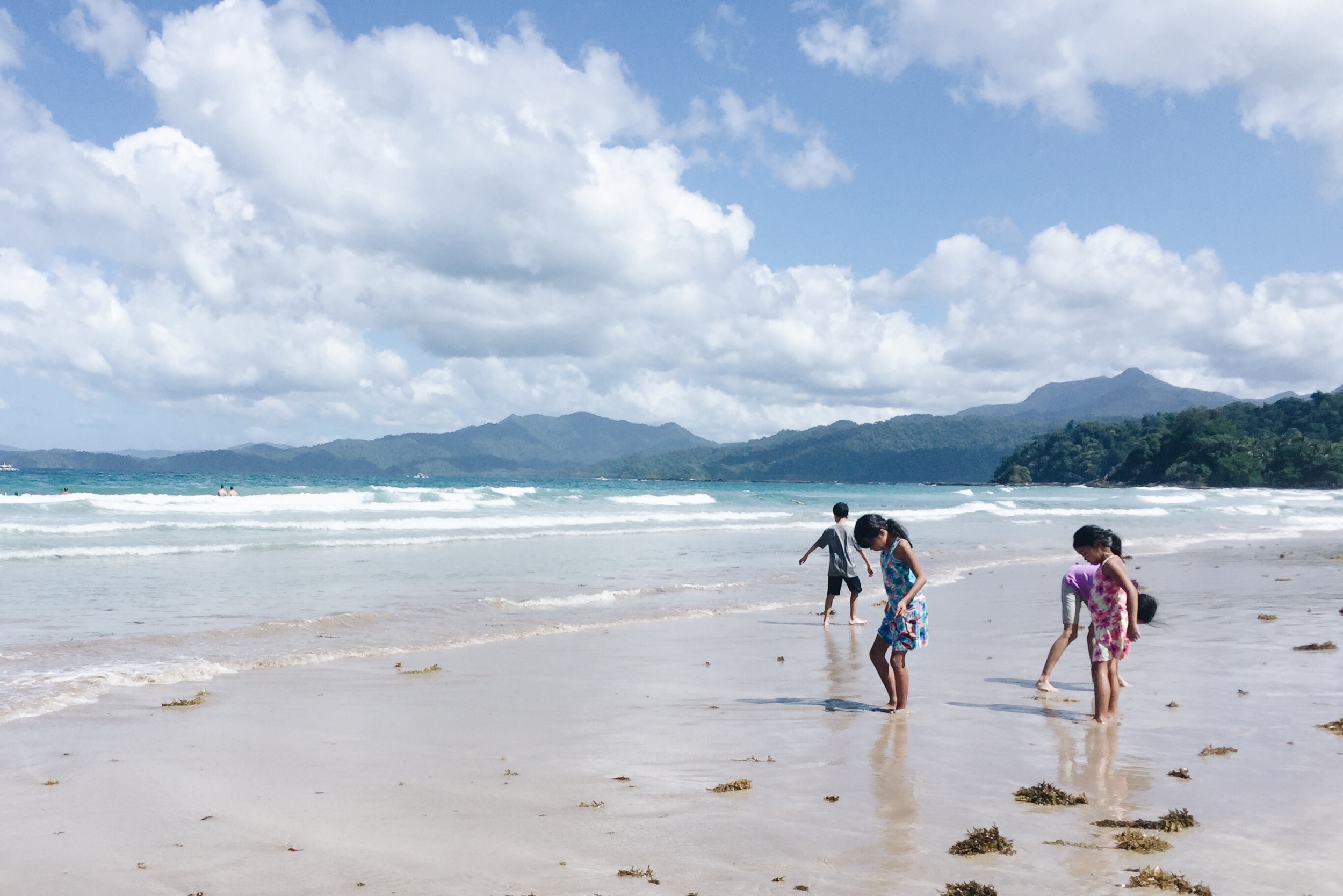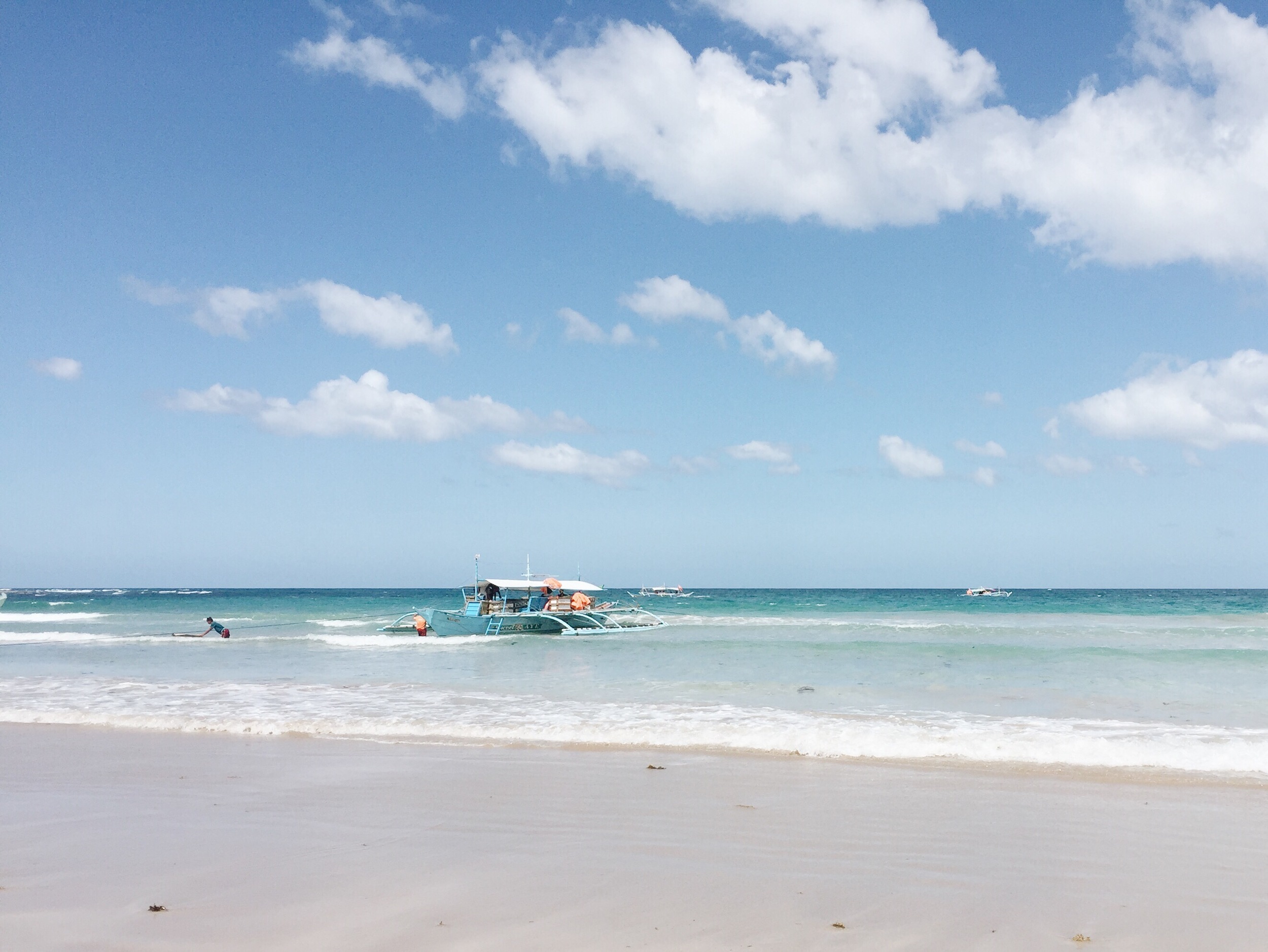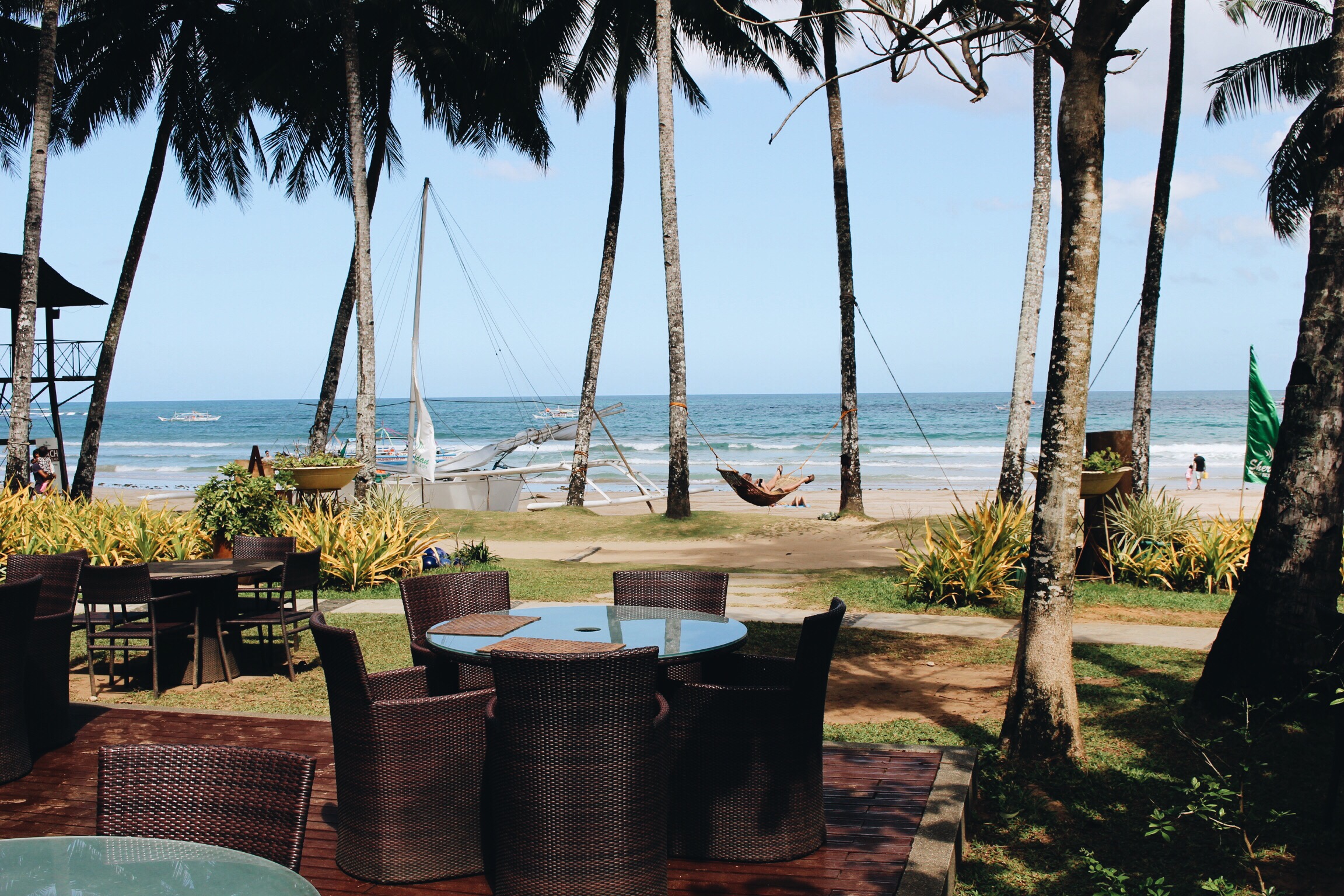 The group made the walk to a dock and awaited outriggers to take us to the main destination of the day, the Underground River Tour, which happens to be one of the 7 Wonders of Nature! I was hyped.
Riding the outriggers, we were treated to a spectacle with the rolling hills covered in jungle and the white sand beach. Once we pulled up on shore, it felt like we were in a remote area with sheer cliff faces and the bluest water. Also on the beach to greet us was a monitor lizard who retreated back into the jungle.
On the walk to the entrance of the river, my mom and I noticed other people who had already done it looking unexcited. We thought that was odd but brushed it off. There was a bit more waiting at the entrance where we entertained ourselves by admiring the monkeys above us until they decided to start peeing and pooping.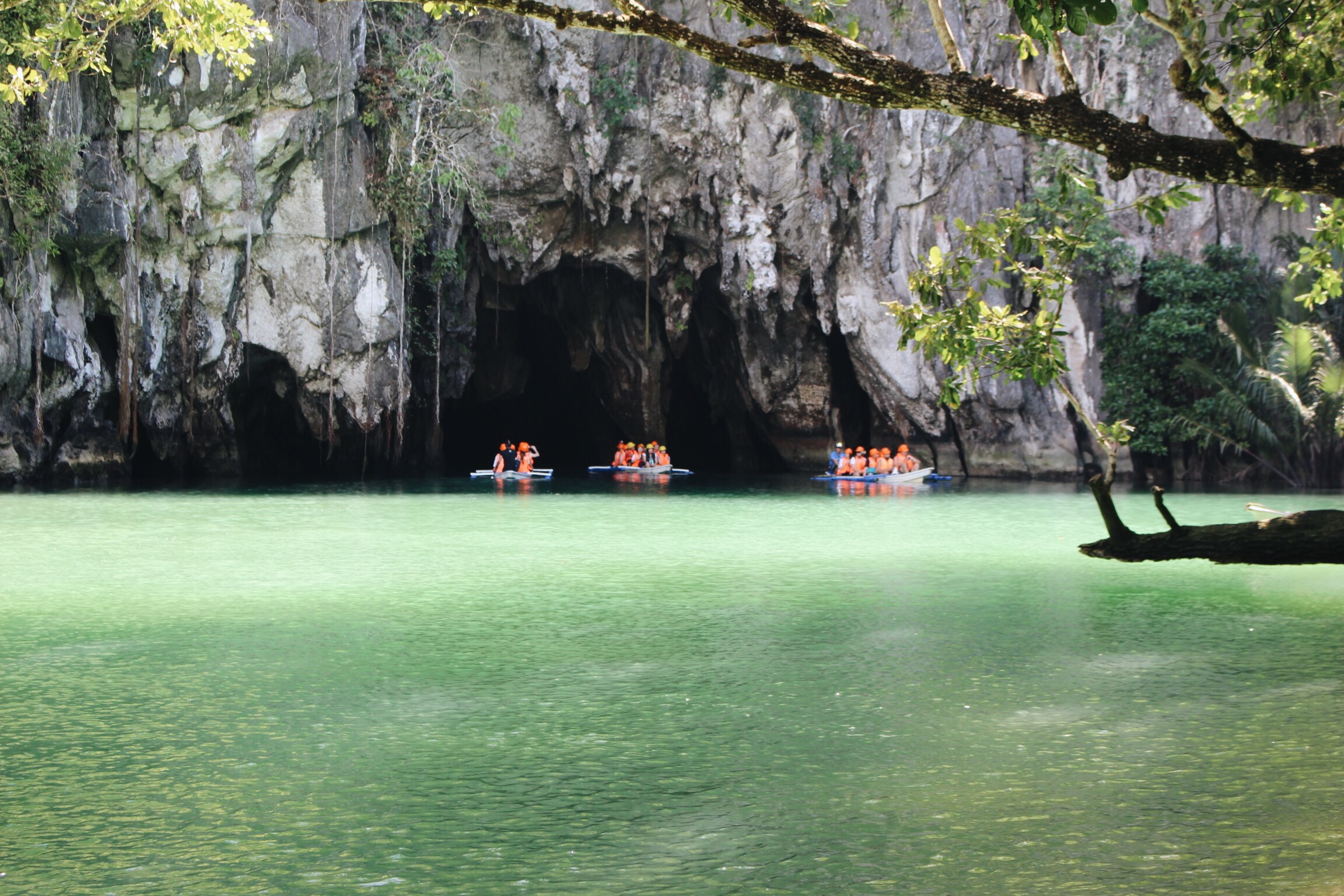 Finally, our boat arrived, we popped on our helmets and jumped into the boat. Gina excited, way before we knew what we were getting into.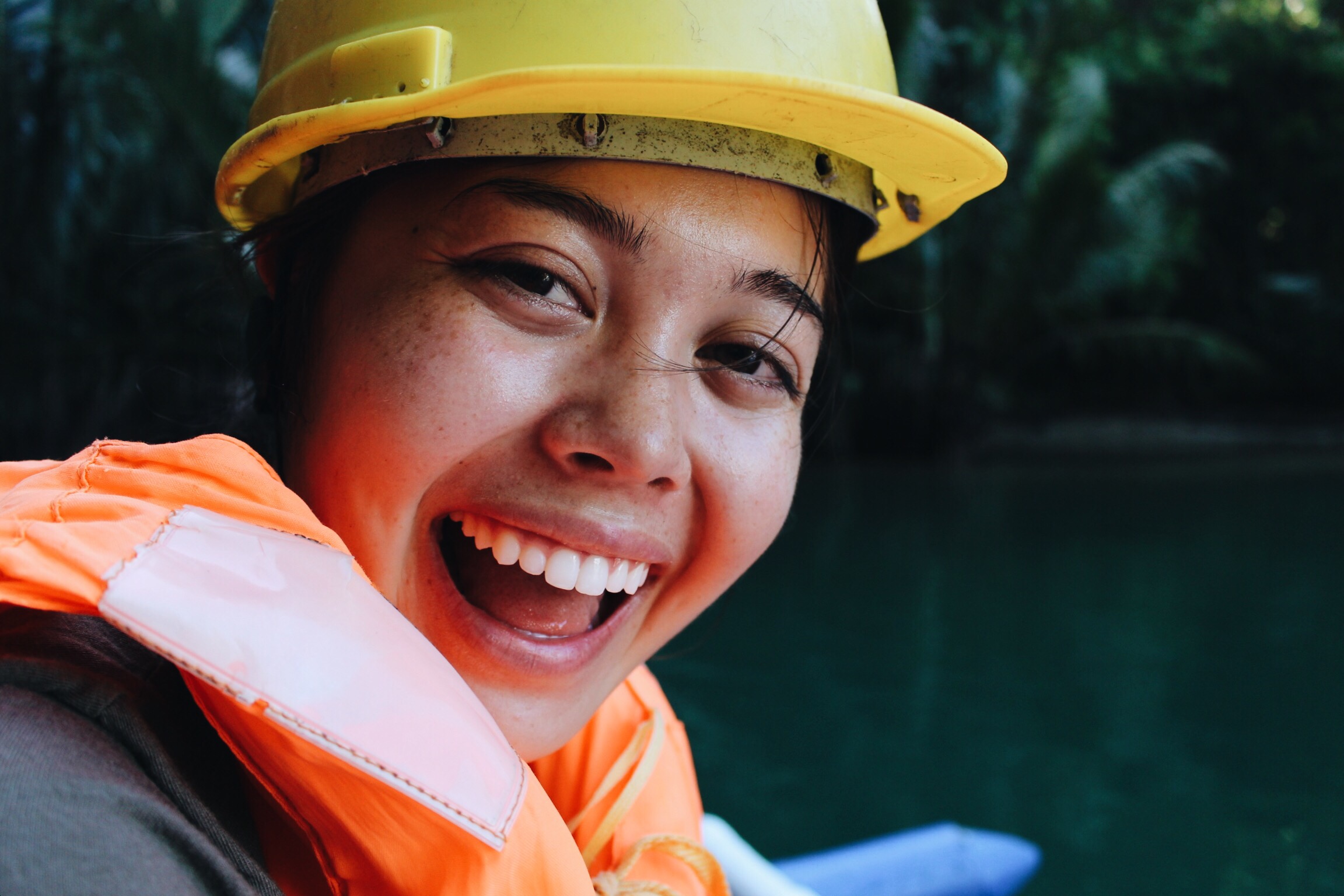 I started having seconds thoughts about this whole thing when the audio guide said "Please keep your mouth closed for the duration of the boat ride" so bacterial water and bat guano wouldn't be consumed. What set the tone for the rest of the ride was right at the entrance I got hit by a bat and was freaked out for the rest of the 45 MINUTES IN THE CAVE.
The rock formations were spectacular but hard to admire when thousands of bats were lurking on the ceiling (and just minding their own business, I mean it is their home) and random things kept dripping on you. "Was that guano or water? Hmm no idea." It was an experience to say the least.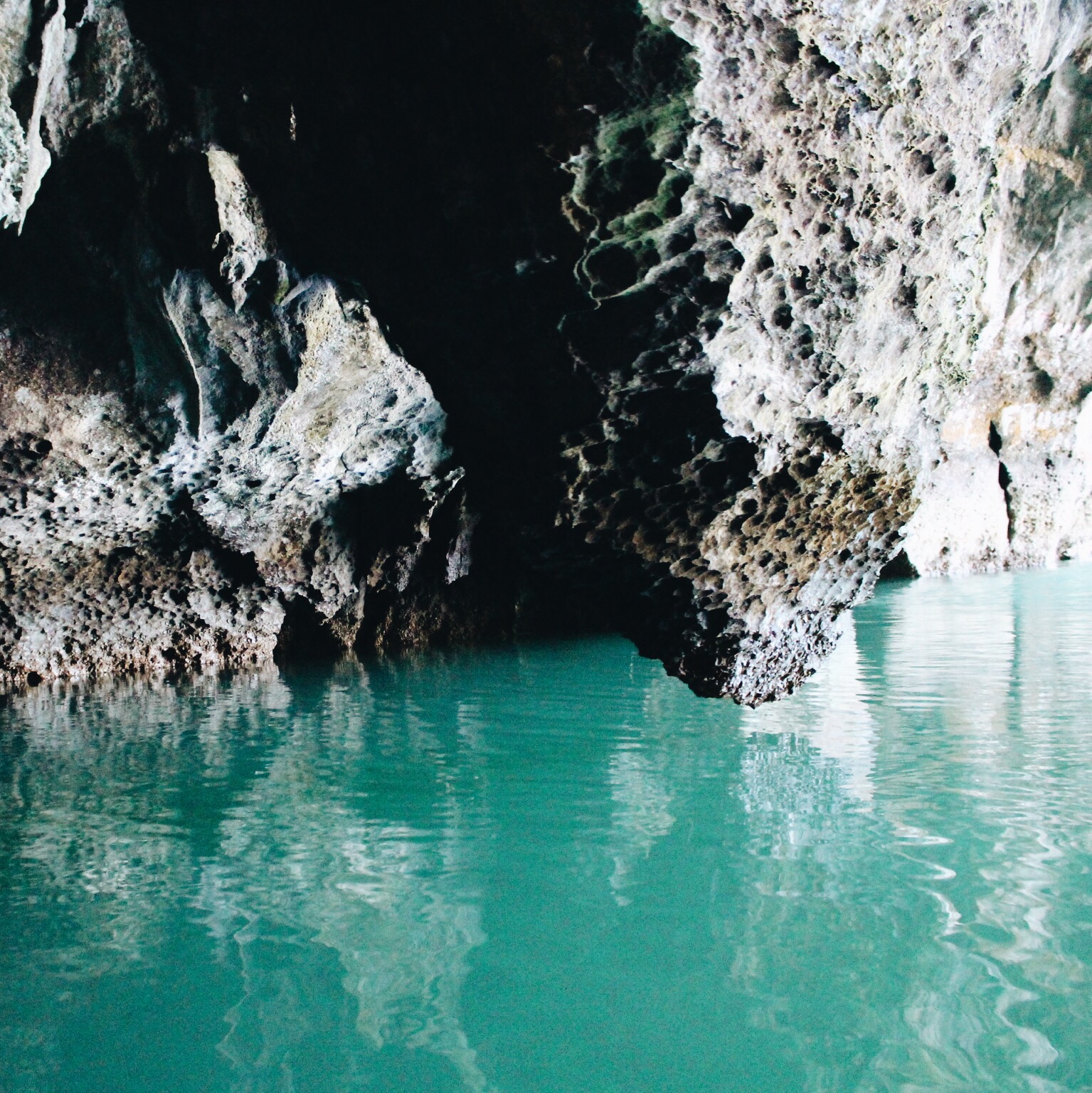 I can say "I did it!" and now understand why those people from earlier weren't ecstatic about the ride. To make matters worse, we watched Batman Begins on the way back....too soon. A funny story now, to say the least.
Day 2:
I knew that it was going to be a good day when I discovered pandesal, Filipino sweet bread, at breakfast and paired it with some Nutella. MORALE BOOSTER.
Today we were in island hopping in Honda Bay. The bus ride started off a little shaky when we arrived at our meet up spot and our tour guide was 30 minutes late, plus Gina's ankle was swollen and inflamed with a skin infection. There was a moment of fear for me when it crossed my mind that she may have to miss the day and go to the hospital for treatment and medicine. Then I realized that I may have to go along with her and miss snorkeling....I know I'm a GREAT sister. Thankfully she was in good hands because there were ten family members who were doctors and she was feeling fine.
We grabbed some snorkeling gear and headed out to the docks to pick up our outriggers. Right before ours arrived, we ran over to one of the local shops to buy some cheap knock off rash guards and protect ourselves from a full day in the sun.
At the first island, we snorkeled in the ocean. Honestly, it felt like we we dropped off in one of the stock photos for Apple, you know the tropical screensaver that comes up on the Macs. Unbelievably clear water and pristine beaches.
It felt so good to be active and swimming. Our guide kept taking us further and further out into the ocean to see some coral reefs and fish, then diving down to point out some starfish.
At the next beach we explored the small island and ate some much needed lunch. It was nice to relax and be carefree.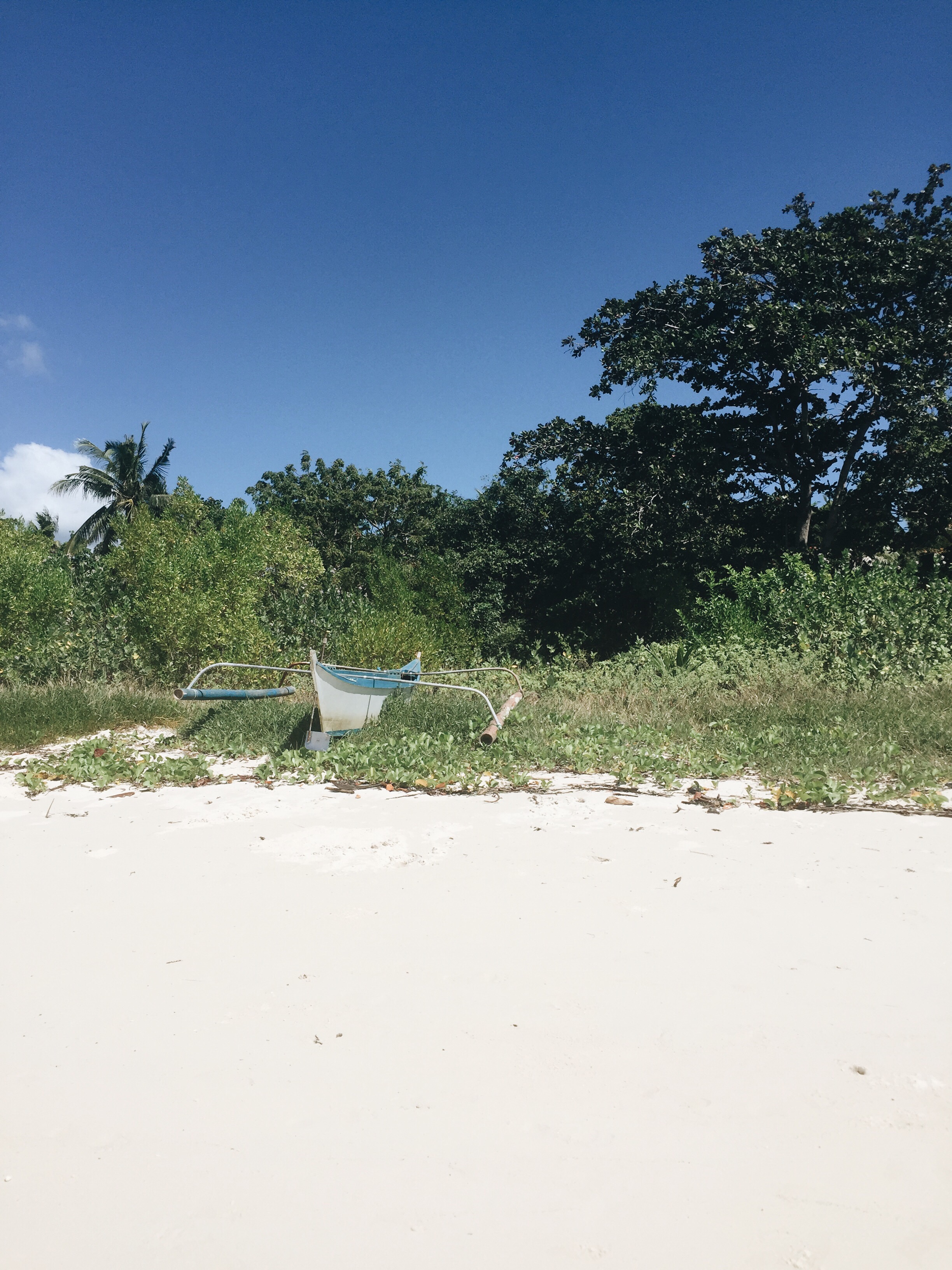 Also on this island was water sports.
A group of us decided to try out the banana boat. Long story short, I somehow got moved up to the front and screamed the whole time as we got pelted with ocean spray and RAIN. Still fun. The day came to a close and we went back to mainland. Right as we stepped off the outrigger, we saw an ice cream stand easily cleared out his little cart. Back at Blue Sky everyone bonded in the eating area by singing karaoke, playing cards, or observing balut eating. Balut is a hard boiled fertilized duck egg common in the Philippines. Somehow my Aunt Caroline represented the Magbojos and ate the whole thing, you can watch that here:
https://www.youtube.com/watch?v=s_egBzFCJdg&feature=youtu.be
Good times and another "average" Filipino day with the Velasco clan.
Day 3:
This was somewhat of a relaxing day. We got to sleep in and have the morning to do whatever we pleased. My mom, Gina, and Aunt Julie took a nice stroll out on the beach and admired the scenery.
Then a nice stroll around the Blue Sky Resort.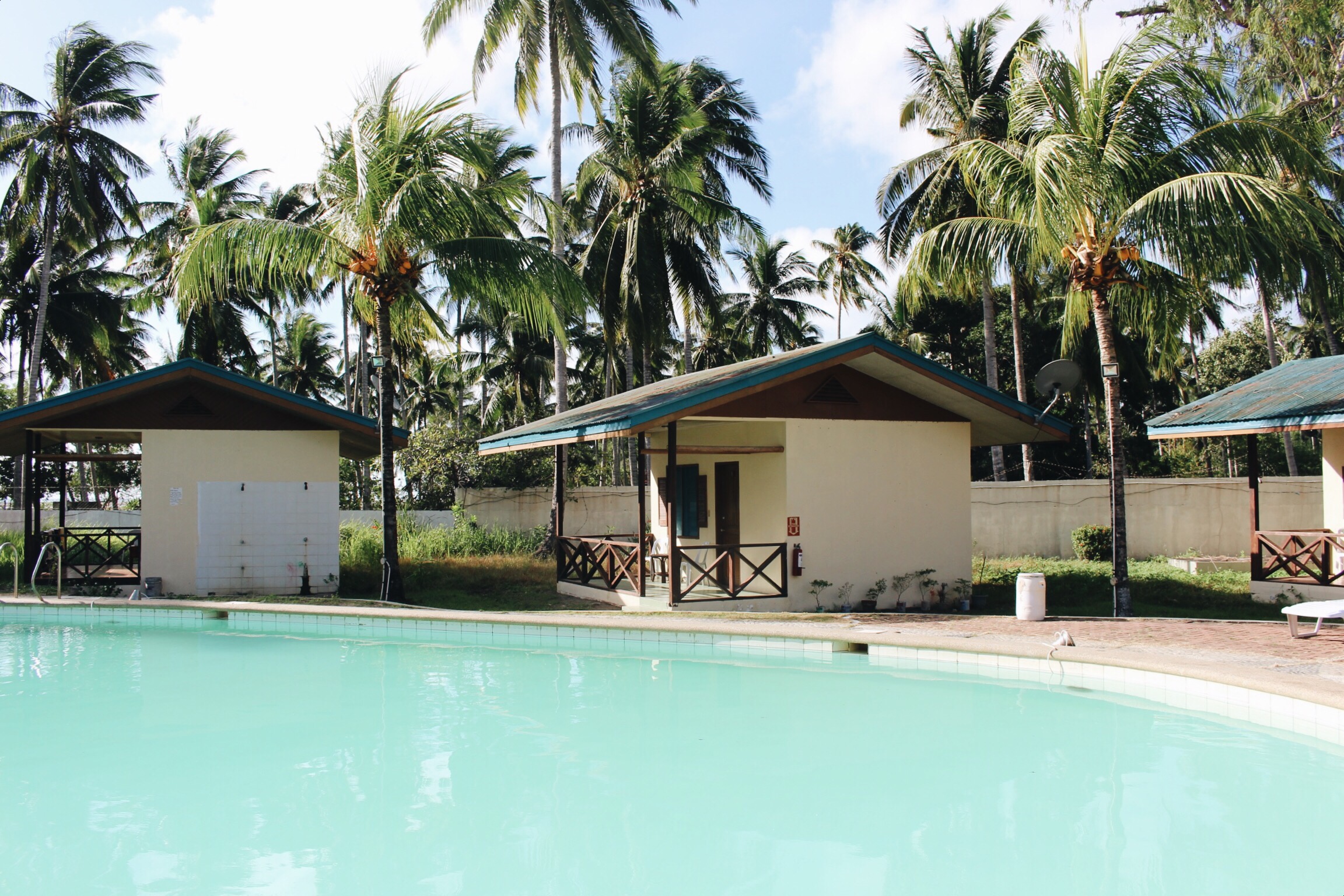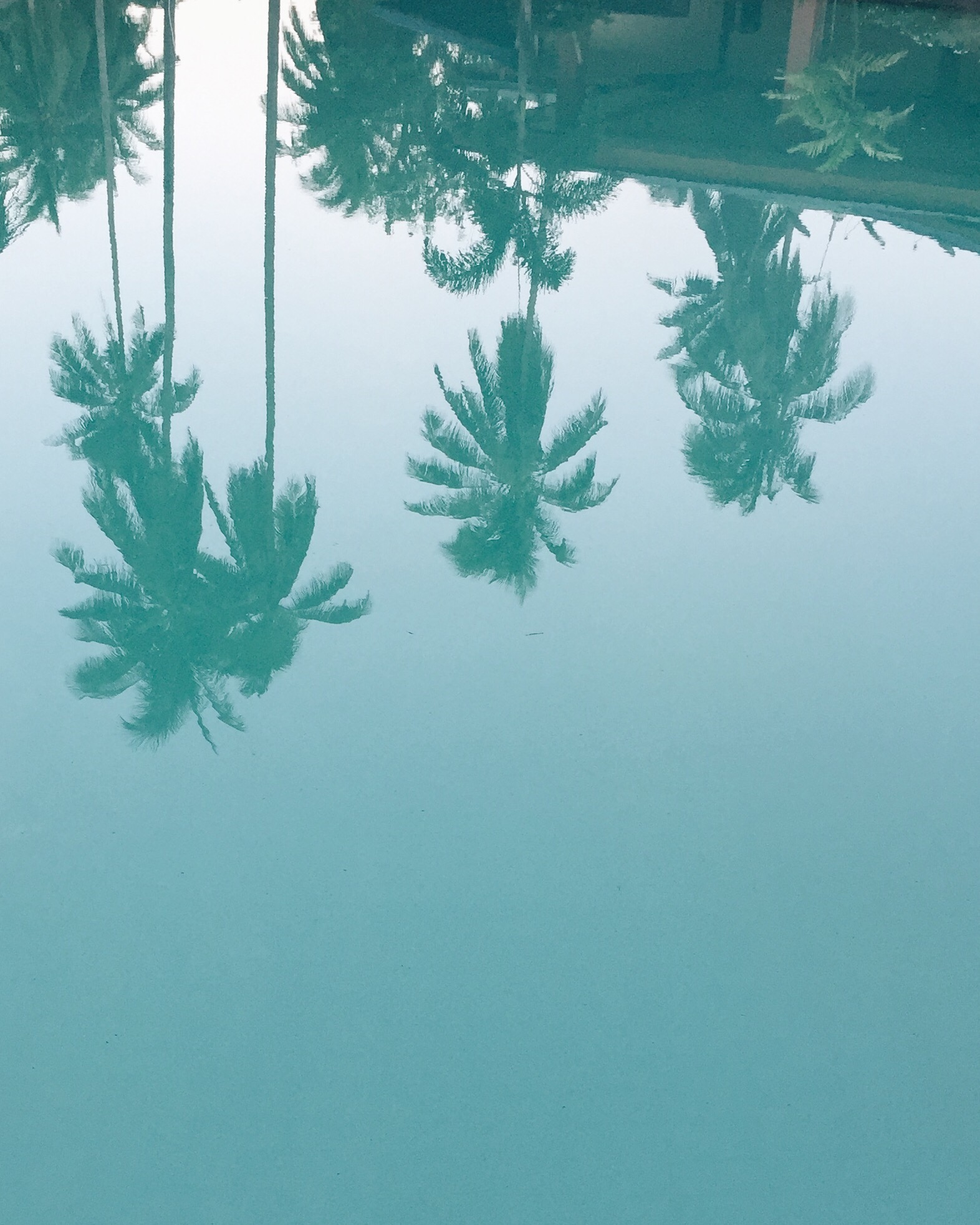 The group came together for a quick lunch before our adventures for the day.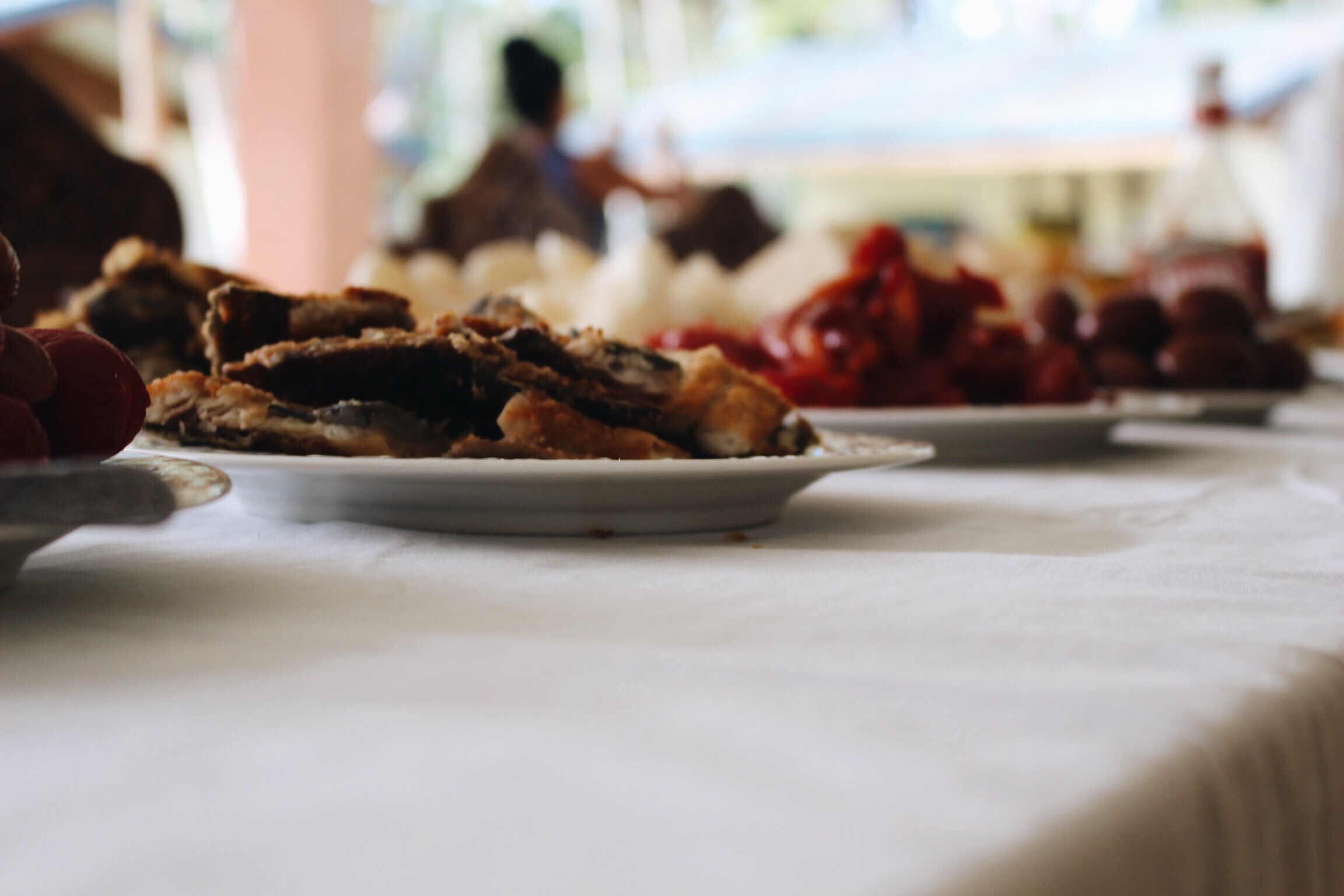 In the afternoon, everyone went to a local crocodile farm. The kids all seemed to enjoy it, me, I'm not too into reptiles. Some of the older crocodiles were huge though! There was also an opportunity to hold one which was met with mixed responses.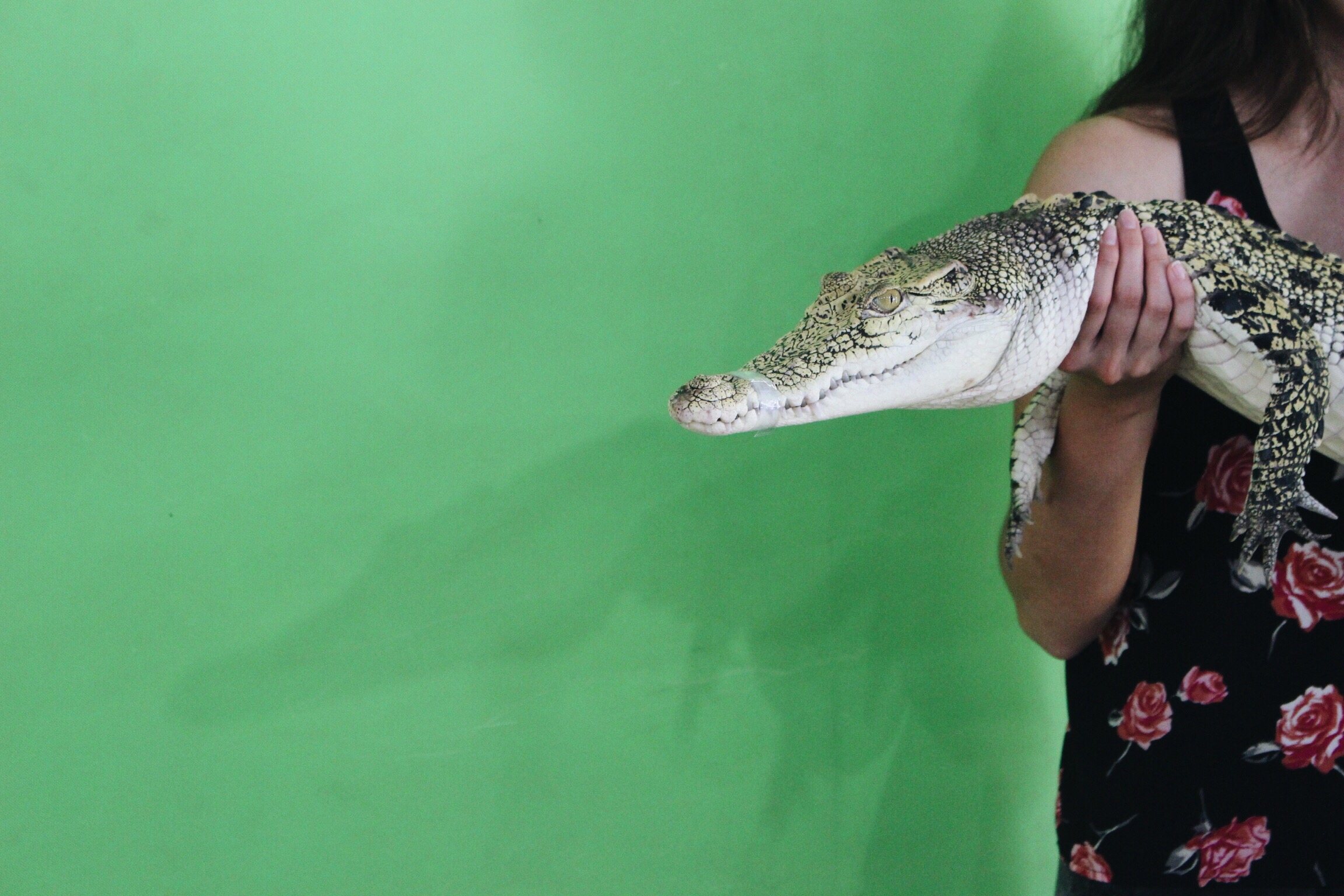 You can see the fear in my mom's eyes.
Also at the farm were other animals in a jungle zoo like...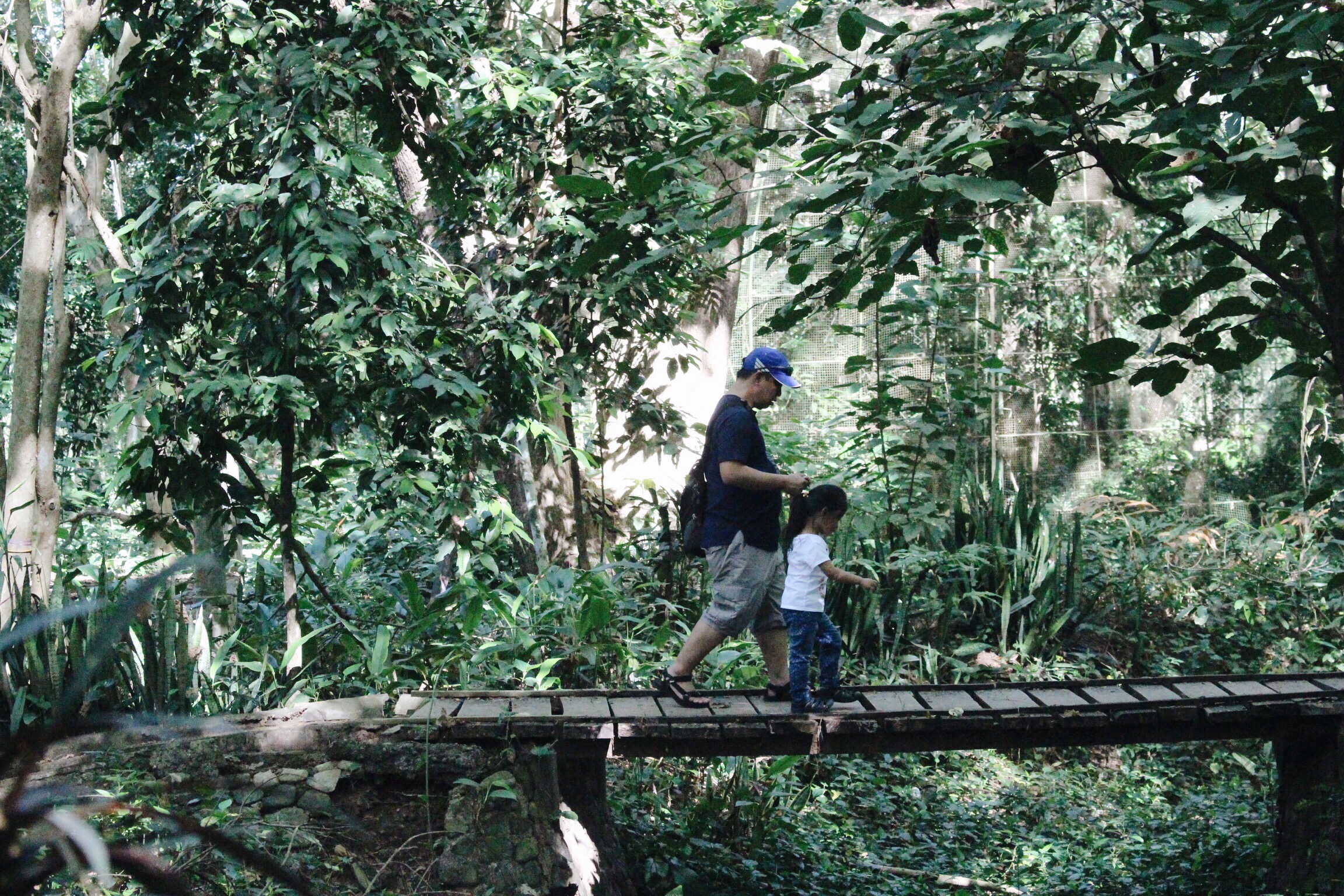 We took some downtime with retail therapy and stocked up on souvenirs before heading to dinner and the firefly tour.
Me being me, I didn't realize that for the Firefly Tour we would be out on the river at night along with the mosquitos. And these mosquitos potentially had malaria. COOL. At dinner we threw on our long sleeve rash guards we had bought the previous day, tied a shawl we had around our waste, and lathered ourselves up in bug spray. We easily used a whole bottle between my mom, sister and I.
The firefly tour was AMAZING. The river was wide open and lined with mangrove trees which are home to the fireflies. Each tree would light up like a Christmas tree. The stars were out in full force too. I have never seen so many stars in my life, especially since we were in a rural area and away from pollution and city light. The guides were kind enough to point out major constellations with mega lasers. To top it all off, the river is home to bioluminescent plankton which shimmered with every stroke of the oar. Indescribable experience. And I'm happy to say that we did not receive any bites that night!
Day 4:
Our last day in Palawan and we awoke early to catch the sunrise for it to only be cloudy. Go figure. It was still a grand old time and we bid adieu to the Blue Sky Resort.
At the airport we arrived early. I had an instance with a cockroach on my ankle (gross) and Angelie had everyone's passports at one point. We all went back to Manila and relaxed for the rest of the day.
Here's a little video I made composed of some shots from Palawan ("Sorry" by Justin Bieber was the song of the trip for the record):
https://www.youtube.com/watch?v=fQPYuT9vUJc
Manila:
Our last full day in Manila and the Philippines in general was New Year's Eve. For lunch, we had a nice gathering with extended Magbojo's side of the family and then regrouped with the Velasco's for the evening at Alba Restaurante Español where we all wore our matching blue polos and took more group photos. The evening was spent eating more food and celebrating the new year with fireworks and family.
The next morning we went back to the states, adjusted to a new time zone, and reminisced about the 2015 Velasco Reunion.
Thank you to everyone who planned the reunion, all of your hard work is appreciated! I had the time of my life getting to know everyone and spend time as a family. I truly miss it and want to return very very soon. There were definitely highs and lows of the vacation, but my absolute favorite part was the family bonding. I miss everyone greatly and am so proud to be Filipino and a Velasco.